---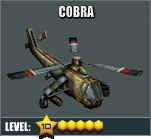 | | | | | | | |
| --- | --- | --- | --- | --- | --- | --- |
| Splash Damage | Space | Infantry | Vehicle | Air | Building | Map Speed |
| No | 60 | OK | OK | Can't Hit | OK | N/A |
Stat Progression

Edit
Level
Upgrade Cost
Upgrade
Time
Tech
Center
Production Cost
Speed
Health
Range
Damage
(DPS)
Metal
Oil
Thorium
Metal
Oil
1
250,000
300,000
0
4
12,000
15,000
1.6
800
260
267
2
187,500
225,000
0
4
7,800
10,125
1.6
865
275
320
3

281,250

337,500
0
5
10,140
13,669
1.6
930
290
373
4
421,880
506,300
0
5
26,364
36,906
1.6
995
299
427
5
632,820
759,400
0
6
34,274
49,822
1.6
1,060
308
480
6
949,230
1,139,100
0
6
44,556
67,260
1.6
1,125
316
533
7
1,423,850
1,708,600
0
1h
7
57,922
90,802
1.6
1,190
320
587
8
2,135,780
2,562,900
0
7
75,298
122,582
1.6
1,255
324
640
9
3,203,670
3,844,400
0
8
100,000
150,000
1.6
1,382
330
733
10
4,666,000
5,972,000
400,000
5s
8
150,000
200,000
1.6
1,800
360
867
11
7,208,270
8,649,900
400,000
5s
8
150,000
200,000
1.6
1,980
360
953
12
10,812,410
12,974,850
1,000,000
5s
10
150,000
200,000
1.6
2,160
360
1,040
13
11,569,280
13,883,100
1,500,000
5s
10
150,000
200,000
1.6
2,340
360
1,127
14
11,569,280
13,883,100
1,500,000
5s
10
150,000
200,000
1.6
2,520
360
1,213
15
11,569,280
13,883,100
1,500,000
5s
10
150,000
200,000
1.6
2,700
360
1,300
16
17,353,920
15,618,500
2,000,000
1d 19h
10
150,000
200,000
1.6
2,880
360
1,387
Total
72,665,140
82,364,650
8,300,000
00d 0h 0m
Note : Showing Data from Non-Customized Unit
Yellow indicates increase from previous level. Underline Indicates Max Value.
Build & Repair Times

Edit
Level 10 Airfield Build & Repair Times Per Cobra Level
Level 1
Level 2
Level 3
Level 4
Level 5
Level 6
Level 7
Level 8
Level 9
Level 10+
Build
1h 06m
1h 06m
1h 18m
1h 12m
Repair
15m 36s
14m 32s
Level 10 Airfield Repair Costs Per Cobra Level
Metal
30,000
Oil
40,000
Times for other Airfield Levels may be calculated by adding 5% for each level below Level 10.
Effective Cobra Levels vs TurretsEdit
Turret Level
Cobra Level Required to Out Range
Blitz
AA Plasma
Flak
Machine
1
361
400
8
5
2
411
425
10
6
3
461
450
10
9
4
511
475
10
10
5
548
500
360
10
6
600
525
400
380
7
600
550
400
380
8
660
600
480
440
Image
30px
30px
32px
30px
Note : Showing Data from Non-Customized Unit
Related Special Ops

Edit
Name
Icon
Class
Level
Description
Time of
Effect
Thorium to
Extend Op
Snake Pit
41px
Defensive
Uncommon
5 mercenary Cobra's deploy when your Base is under attack.
12h
100,000
More Information and a the Full List of Ops available here: Special Ops
Related Missions

Edit
STANDARD MISSION
Mission
Icon
Mission Description
Completion Awards
Images
Metal
Oil
Pre
Post
Cobra Command
35px
Unlock Cobra's in Tech Center
14,000
12,000
X
X
Some Missions May Not Be Available Until The Completion Of Others.
Update History

Edit
Additional Facts

Edit
The Level 10+ Cobra have the same range as the Level 10+ Warhawks.
The Level 10+ Cobra does substantially more damage to most Infantry Units.
Because of the Cobra's ability to heavily damage Infantry Units, they are often grouped with Warhawks or Hellstorms to aid in the killing of Last Stand Defenders.
With a Level 10 Airfield the Aircraft Platoon can hold a total of 23 Cobra's with a Space of 20 remaining for other Aircraft.
The Cobra, being a Helicopter, is able to be placed in the Helipad.
With A Level 5 Helipad the Helicopter Platoon can hold a total of 13 Cobra's with a Space of 20 remaining for other Aircraft.
The Cobra might not have the range of the Hellstorm but it has the advantage of being precise in the elimination of targets and only destroys what is intended, The Hellstorm, with its large Splash Damage, can destroy unintended targets causing Last Stand Defenders problems.
The Cobra flies at a higher altitude than the Hellstorm, see pic in gallery.
Enemy Cobra's are shown with a Red Stripe instead of the regular Blue Stripe.
In-Game Quotes

Edit
Click Expand to View Additional Quotes
"

Cobras are lightly armored helicopters mounted with twin MG 3 machine guns and the mobility to mow down infantry units.

"



 

— In-Game Description 
"

The Cobra is a light helicopter armed with twin MG 3A1 machine guns, mowing down infantry from above in record time.

"



 

— Level 10+ Description 
"

1st CAVALRY AIR DIVISION - Your Cobras are ready to strike, Commander. The destruction of enemy infantry will be so delicious.

"



 

— Unlock Message 
"

FLYING VENOM - Your Veteran Level 5 Cobra rains death from above.

"



 

— Level 15 Message 
"

Each pass will grind infantry into red bits of dust.

"



 

— Level 10 Upgrade Message on Facebook 
"

MISSION - With addition of these beauties, your army will be deadly as a snake, Commander.

"



 

— Mission - Cobra Command - Complete 
Related Pages

Edit
External Links

Edit
Animated Gallery

Edit
Images have been resized to fit in the page. Click to enlarge.
Gallery - Animation - Real Life

Edit
Slideshow

Edit
---