See Also Template:Unit_Navigation/Doc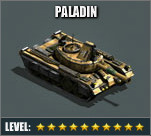 "

Paladins are beasts on the battlefield. With 120 mm main guns, these heavily armored medium tanks make mincemeat of ground troops.

"



 

— In-game description 
"

Retrofitted with more advanced armor plates, the Paladin tank has a presence on the frontlines that cannot be ignored.

"



 

— In-game description 
Basic Info
Edit
| | | | | | | |
| --- | --- | --- | --- | --- | --- | --- |
| Splash Damage | Space | Infantry | Vehicle | Air | Building | Map Speed |
| Yes | 100 | OK | Best | Can't Hit | OK | 16.7 |
Upgrade Progression
Edit
Level
Upgrade Cost
Upgrade Time
Tech Center
Production Cost
Speed
Health
Range
Damage (DPS)
Metal
Oil
Thorium
Metal
Oil
1
500000
450000
0
2d
4
8000
10000
0.9
2500
290
611
2
375000
337550
0
1d
4
10400
13500
0.9
2750
310
767
3
562500
506300
0
1d 07h 12m
5
13500
18200
0.9
3000
320
856
4
843750
759400
0
1d 16h 34m
5
17600
24600
0.9
3250
330
944
5
1265630
1139100
0
2d 04h 44m
6
22800
33200
0.9
3500
340
1033
6
1898450
1708600
0
2d 20h 33m
6
29700
44800
0.9
3750
351
1122
7
2847680
2562900
0
3d h m
7
38600
60500
0.9
4000
355
1211
8
4271520
3844400
0
4d h m
7
50200
81700
0.9
4250
360
1300
9
6407280
5776600
0
6d 06h 35m
8
75000
120000
0.9
4883
360
1493
10
9610920
8649800
400000
5s
8
90000
150000
0.9
8000
385
1867
11
14416380
12974700
400000
5s
8
90000
150000
0.9
8800
385
2053
Total
0
0
800000
0d 00h 00m
Effective Paladin Levels vs TurretsEdit
For other Range Tables see Unit vs Turret Ranges
Paladin Customization
Edit
Heavy Barrel :

Increased Range ( 5 Levels )

Unknown Tech Item :

Increased Turn Speed ( 1 Levels )

( Found In Ruins of Eastern Horde Base's )

120mm Shells
Anti-Armor Shells :

Increased Damage vs. Vehicles ( 5 Levels )

Fragmentation Shells :

Increased Damage vs. Infantry ( 5 Levels )

Cryo Shells :

Adds Freeze Effect on Damage( 5 Levels )

Medium Armor
Medium Hardened Armor :

Reduced Damage From Ground Units ( 5 Levels )

Medium Steel Plated Roof :

Reduced Damage From Air Units ( 5 Levels )

Tank Engine
Dual Turbine Tank Engine :

Higher Top Speed ( 5 Levels )

High RPM Tank Transmission :

Higher Acceleration ( 5 Levels )

Supercharged Tank Engine :

Higher Top Speed & Acceleration ( 5 Levels )
Shared Among All Available Tanks ( Paladin & Mega )
Upgraded Treads :

Movement Speed Increased ( 5 Levels )

Minesweeper Treads :

Reduced Mine Damage ( 5 Levels )

Unknown Tech Item :

Machined Tracks ( 1 Levels )

( Found In Ruins of Sickle Syndicate Base's )
For More Info See the following Pages : Workshop & Unit Customization
Additional Facts
Edit
The Paladin is one of 4 Units that can be Customized in the Workshop.
At level 10, the Paladin receives a major health boost.
June 6 2013, The Paladin acquired a new look after the ending of Operation: Archangel .
A platoon of 10, Level 10 Paladins take 3hrs and 19mins to repair with a level 8 War Factory. 
At Lv.10, the Paladin gains a considerable amount of health, though in terms of combat comparing against the Challenger at Lv.10, the Paladin can last longer against the Challenger, but is underpowered by the Challenger's ROF and firepower.
The Paladin can be upgraded in Workshop. You can upgrade: Armor (not health) reduce damage against ground or air units; Barrel to increase range; Shells against vehicles, infantry, or add freeze effect; Engine to increase top speed, acceleration or both; Treads to increase movement speed or reduce damage from mines. 
The Paladin somewhat resembles the T-90 MBT and the T-72.  In fact, the Paladin resembles all of these tanks in either body size, cannon size, or basic appearance.
The New Paladin looks like T-72/90 with a shorter barrel.