---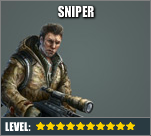 | | | | | | | |
| --- | --- | --- | --- | --- | --- | --- |
| Splash Damage | Space | Infantry | Vehicle | Air | Building | Map Speed |
| No | 50 | Best | Poor | Can't Hit | Poor | 1.0 |
Stat Progression

Edit
Level
Upgrade Cost
Upgrade
Time
Academy
Level
Production Cost
Speed
Health
Range
Damage
(DPS)
Metal
Oil
Thorium
Metal
Oil
1
800,000
720,000
0
4
1,600
4,000
0.6
360
350
132
2
600,000
540,000
0
5m
4
1,040
2,400
0.6

395

360

147

3
780,000
702,000
0
5
2,704
5,760
0.6

430

370

162

4
1,014,000
912,600
0
5
3,516
6,912
0.6

465

380

177

5
1,318,200
1,186,400
0
6
4,570
8,294
0.6

500

390

192

6
1,713,660
1,542,300
0
6
5,940
9,954
0.6

535

400

211

7
2,227,760
2,005,000
0
7
7,722
11,944
0.6

576

403

221

8
2,896,090
2,606,500
0
7
10,040
14,332
0.6

590

406

236

9
3,764,920
3,388,400
0
8
15,000
20,000
0.6

622

410

264

10
4,894,400
4,405,000
300,000
5s
8
17,500
22,500
1.2

750

410
298
11
4,894,400
4,405,000
300,000
5s
8
17,500
22,500
1.2
825
410
327
12
8,271,540
7,444,400
600,000
5s
9
17,500
22,500
1.2
900
410
357
13
10,753,000
9,677,700
900,000
5s
9
17,500
22,500
1.2
975
410
387
14
13,978,900
12,581,000
900,000
5s
9
17,500
22,500
1.2
1,050
410
417
15
18,172,570
16,355,300
900,000
5s
9
17,500
22,500
1.2
1,125
410
446
16
23,624,340
21,261,900
1,200,000
1d 0h 0m
10
17,500
22,500
1.2
1,200
410
476
Total
99,703,780
85,329,400
5,100,000
0d 00h 00m
Note : Showing Data from Non-Customized Unit
Yellow indicates increase from previous level. Underline Indicates Max Value.
Bunker Ranges for the Sniper

Edit
Sniper Bunker Range Per Level
Sniper Level
Level 1
Level 2
Level 3
Level 4
Level 5
Level 6
Level 7
Level 8
Level 9
Level 10+
Bunker (+40%)
490
504
518
532
546
560
564
568
574
574
Watchtower (+50%)
525
540
555
570
585
600
605
609
615
615
Table list Ranges for Non-Customized Units ! ----- Bunker = Both Standard & Stronghold
Build & Repair Info

Edit
Level 10 Barracks Build & Repair Times Per Sniper Level
Level 1
Level 2
Level 3
Level 4
Level 5
Level 6
Level 7
Level 8
Level 9
Level 10+
Build
33m 00s
33m 00s
50m 25s
Repair
9m 54s
13m 46s
15m 08s
Level 10 Barracks Repair Costs Per Sniper Level
Metal
0,000
5,250
Oil
0,000
6,750
Times for other Barracks Levels may be calculated by adding 5% for each level below Level 10.
Effective Sniper Levels vs TurretsEdit
Name
Icon
   Class   
   Level   
Description
Time of Effect
Thorium to Extend
Bullseye
Attack
Common
4 Mercenary Snipers join your attack after you deploy ground units.
1h
50,000
More Information and a the Full List of Ops available here: Special Ops
Related Missions

Edit
STANDARD MISSION
Mission
Icon
Mission Description
Completion Awards
Images
Metal
Oil
Pre
Post
Silent But Deadly
35px
Unlock Snipers
5,000
5,000
X
Some Missions May Not Be Available Until The Completion Of Others.
Additional Facts

Edit
The Sniper requires that the Suicide Bomber be unlocked prior to unlocking the Sniper.
The Sniper received a Schematic in the Workshop in Game Update: Aug 7th, 2013.
The Sniper received the ability to be upgraded to Veteran Level 5 in Game Update: April 2nd, 2014.
Snipers were the slowest units in the game. After the Level 10 upgrade, their speed doubles.
As of November 28, 2012, Snipers have had their space requirement reduced from 60 to 50.
The Sniper is usually placed in Bunkers to prevent baiting from Attack Dogs and to extend their Range.
The Sniper will assume a Prone Firing Position ( laying on its belly ) when targeting a Enemy Unit. This position reduces and shifts the "Targeting Area"  that the Enemy Player must "Click" on to target the Sniper making it difficult for them to be attacked.
In-Game Quotes

Edit
"

Nearly invisible to enemy units, Snipers pick off targets from a safe distance with their savage 110 BA tactical sniper rifle.

"



 

— In-game description 
"

Stalking enemies with ease, Snipers cover ground much faster, closing in on or putting a safe distance between themselves and their targets.

"



 

— Level 10 description. 
---